An end-to-end rebrand and website redesign project rejuvenating the identity of a network of flexible workspaces
The challenge
To help Devon Work Hubs, a network of flexible workspaces across Devon county, modernise their aging brand and website while complying with stringent accessibility requirements.
The outcome
A comprehensive new image and identity, including an improved accessible website, refreshed future-proof brand guidelines, and a more functional approach to content.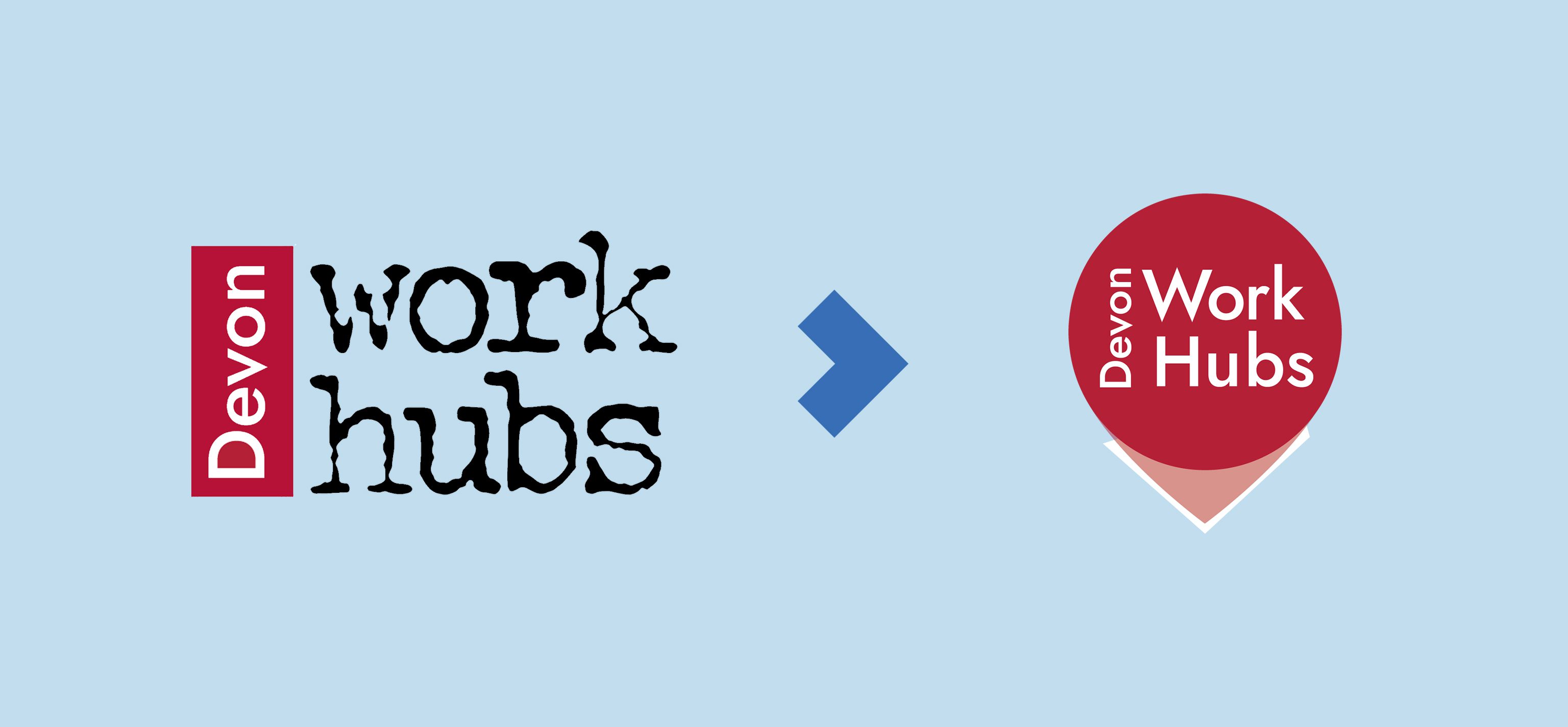 The results
Devon Work Hubs were extremely happy with their new identity, the new brand was perceived as a vast improvement in focus groups, and digital performance improved.
Our process
Spaces to Places applied for the public tender request put out by Devon County Council in 2021, applying to be the chosen supplier to deliver a complete overhaul of the brand's identity and the antiquated website. We were selected as the preferred supplier thanks to our considered approach to the holistic nature of the project and our specialism in the flexible workspace sector.
From the start, it was made clear that the project required particular care and attention to meet public sector guidelines regarding accessibility. We started a dialogue with internal stakeholders at Devon Work Hubs and pitched our initial vision for the new brand and website design, ensuring that all mandatory conditions were met in our plan. Our proposed approach was signed off with enthusiasm, meaning we could get started.
Laying the foundation
With an existing network of almost 20 flexible workspace hubs already operating throughout Devon, we began by gathering all of the information and resources that we would need throughout the project. This included photographing each location, gathering key content ideas from each workspace's management team, and interviewing workspace members to get their thoughts.
Simultaneously, we delved deeper into the accessibility requirements that were part of the brief, strengthening our understanding of the guidelines we had to comply with and forecasting which parts of the project that would affect.
First-stage design
A multi-disciplinary team at Spaces to Places consisting of a specialist researcher, graphic designer, web designer, copywriter, and project manager prepared initial drafts of all key deliverable elements to present as a proof of concept to stakeholders at Devon Work Hubs.
This included the production of a suite of potential logos, typefaces, brand colour palettes, website page wireframes, and photography elements. All new elements were designed to meet the required accessibility guidelines, which included selecting colours that enabled good visibility for the visually-impaired, typefaces that were clearly legible at all sizes, and built-in accessibility tools on the website wireframes.
These first-stage design elements were presented to the team at Devon Work Hubs, and a chosen design route was settled on following their feedback.
Refinement and production
With our design concepts approved, we moved on to producing final versions of all required elements, including: tone of voice guidelines, a logo and appropriate variants, a font family, a brand colour scheme, and marketing material templates.
We also progressed with the website build, with the front-end being built around the accessibility guidelines while content and SEO strategy were handled simultaneously. Keyword research was carried out to identify the addressable organic search market, leading to an ideal site structure being put together that could effectively target the chosen primary keywords. New search engine optimised content was produced for all pages across the site.
Testing and sign-off
When the website build was completed, we carried out accessibility and treejack testing to ensure it met the brief in full. Finally, we could present the finished products to the team at Devon Work Hubs for final approval. With their green light, a migration plan was put together including URL redirect instructions, and the Devon Work Hubs team could take over management of their new website.
The Spaces to Places method
When working on a complex multi-stage project like Devon Work Hubs' rebrand and website redesign, we focus on comprehensive planning and preparation to make sure that we can deliver results within the deadline. The multi-disciplinary team we have in-house also means that we can provide specialist-quality services across the range of requirements.
Feedback from Devon Work Hubs
"The Spaces to Places team provided us with a fresh new brand and up to date website. The team were friendly, supportive, responsive to our feedback and, most importantly they produced something we are incredibly happy with. We wouldn't hesitate to work with them again and hopefully we will!"
– Tom, Economic Development Officer at Devon County Council