Helping transform serviced offices in a Hampshire country house into a modern fully-flexible workspace
The challenge
To help Worting House in Basingstoke, Hampshire respond to the challenges of the pandemic and implement their vision of becoming a successful flexible office space.
The outcome
A completely redesigned Worting House offering, including sleek new interiors, all-new branding, a refreshed approach to marketing, and new development goals.
The results
In the first 12 months of working with Spaces to Places, Worting House has seen positive tangible results, including:
· >580sqft of office space taken on 12-month contracts worth over £20,000, with direct attribution to new marketing activities
· 12 first-time meeting room bookings from new businesses, several of which have consistently rebooked
· 95% of inbound leads now coming directly through established marketing channels, as opposed to through brokers
Our process
Worting House – a beautiful Georgian manor located on the outskirts of Basingstoke – was struggling as a result of the COVID-19 pandemic. They appointed Spaces to Places to redesign their serviced offices and convert the site into a more sophisticated and modern flexible workspace destination.
The foundation
Before working with Spaces to Places, Worting House contained serviced offices that were offered on relatively rigid full-time leases, meeting and training rooms, and additional virtual office services. Their main customers were micro-businesses (nine staff or less) and their marketing was almost entirely features-focused. As a result of the pandemic, existing tenants were exiting the building and the house was standing empty.
The challenge was to modernise the space, transform their offering to cater to flexible workers post-pandemic, and update the marketing to better reflect the destination-status Worting House deserved.
Competitor review
We began with a thorough review of major competitors to Worting House in the Basingstoke area, analysing their business models and providing an overview of future developments in the area. Our report included detailed case studies of the main competitors' locations, including USPs, size, and pricing.
Creating a roadmap
Building on our findings from the competitor review, we evaluated the market opportunity for Worting House and created a roadmap for strengthening their offering and expanding their customer base.
We identified key USPs for Worting House, including:
· Modern workspace in a historic building
· Idyllic and peaceful rural surroundings
· Fully serviced and flexible workspace solutions
We then worked on evolving the current brand to suit their new aims. In doing so, we developed a 5-10 year vision for establishing Worting House as a lifestyle destination and hub in the local area.
Our interior designer, Heather Lehmann, produced a detailed vision for the interiors of the space including an impactful entrance hall and bright, design-led meeting rooms. She also created guidelines that transformed Worting House into a COVID-friendly workspace, in line with government recommendations for social distancing.
Building a brand
Taking Worting House's existing brand materials as a starting point, we modernised and streamlined their brand identity to create a more cohesive and accurate representation of the brand's values. We generated three distinct brand personas and the favourite was selected by the client.
Using the chosen brand persona, we created a full suite of new brand materials, including an updated brand colour palette, typeface, and logo. Despite being brand-new and original, these new brand materials all retained the essence and elegance of the original brand, providing continuity throughout the rebrand.
The chosen brand identity was designed to build an emotional connection with its audience – made up of both existing Worting House members and potential future members. Throughout the design we used clean, modern imagery and calm, serene pastel colours to create a sense of professionalism and sophistication.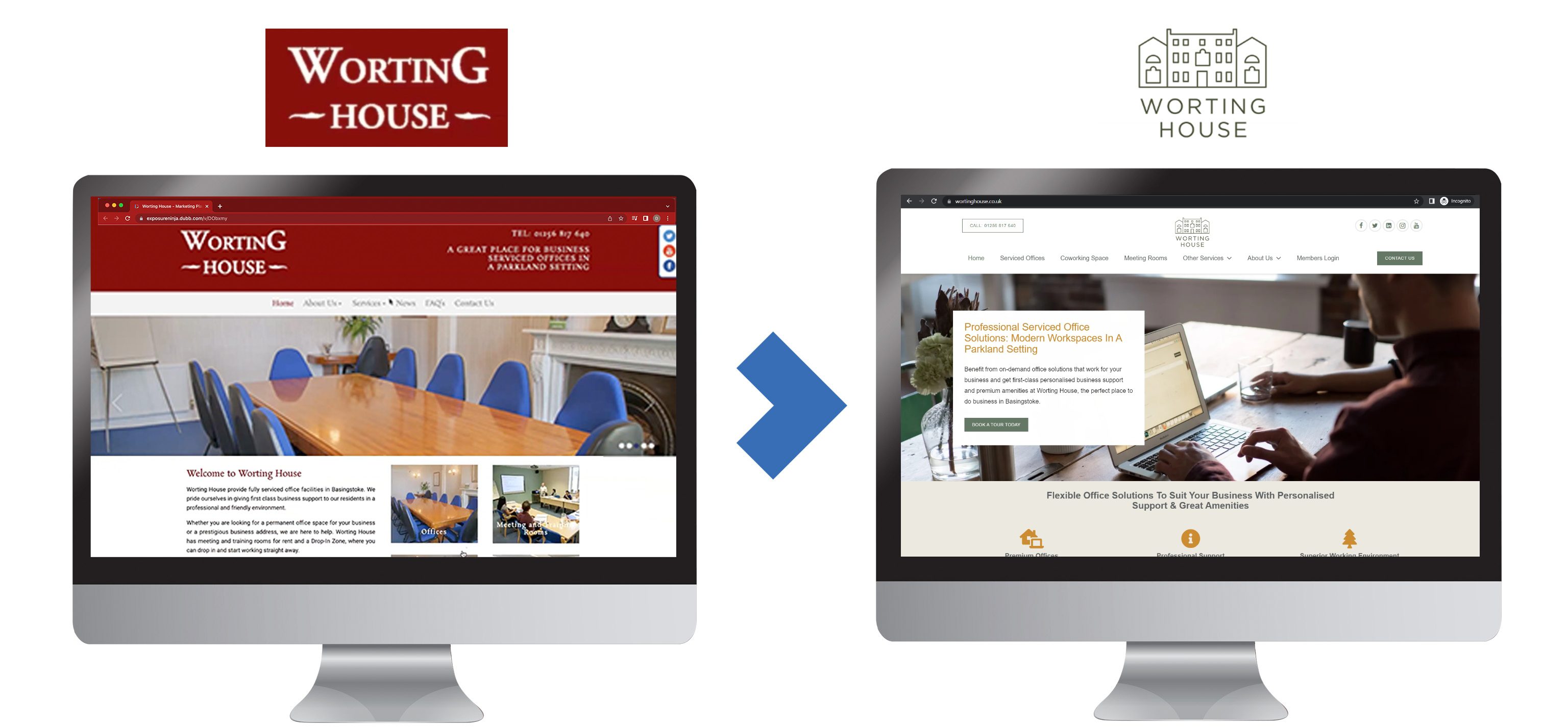 Marketing management
With the rebrand completed and new brand materials ready to roll-out, we moved on to developing a revenue-generating marketing strategy centred on targeting local audiences. This included designing a new website, taking ownership of all Worting House social media channels, and developing an email marketing strategy and database.
The objective throughout the cross-channel marketing campaign we put together was to increase engagement from the target audience, generate interest in the updated brand, and drive consistent traffic to the refreshed website. The website then took on the job of converting the acquired users through enquiry forms and telephone CTAs.
Going forward
We have an ongoing relationship with Worting House and have developed a marketing strategy to enable them to continue drawing new customers to the space, including email marketing, targeted social media campaigns, and pay-per-click advertising. We are also introducing an on-demand booking system to the Worting House website to allow users to book spaces directly, further strengthening the conversion capabilities of the website.
The Spaces to Places method
Our method focuses on turning under-utilised commercial space into flexible, person-led workplaces. We specialise in placemaking – turning ordinary spaces into contemporary, polished and welcoming places. With Worting House, we have successfully nurtured a historic building to become a fully-fledged flexible office space and local hub.
Feedback from Worting House
"I'm really happy with everything the team at Spaces to Places have done for Worting House. They came in with fresh eyes and did lots of research into the opportunities in our area and then turned that into ideas to help us make the most of them.
When you're not sure what direction to take, they're able to guide you down the right path with  brilliant ideas. What they have done with our social media and website is incredible. I would recommend them to anyone looking for inspiration and practical support. They have done wonders for Worting House and we couldn't be happier."
– Julie Kehoe, Facilities Manager at Worting House